I hope you've enjoyed this second album as much as I have in presenting it to you. Any of these photos - depending on your color preferences - would probably look smart in your home or office.

Should you want to order, here are the prices:

8" x 10" .......... $12.00 (U.S.$)
11" x 14" .......... $50.00
16" x 20" .......... $65.00

*Not including postage (postal mail or UPS)

*Satisfaction Guaranteed!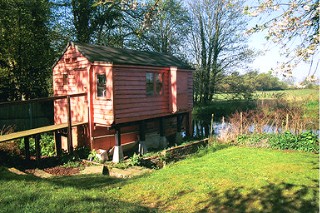 The photo (right) was one of the first country scenes that famous English Suffolk painter, John Constable, chose that initiated his career. My wife and I stayed in a small B&B, built in the 13th century, in Stratford St. Mary, and this boat house was situated out back along the Stour River.
J. Constable Boat House, No. 2-02