VOLUMETRIC FILLERS & ELECTRONIC WEIGH SCALES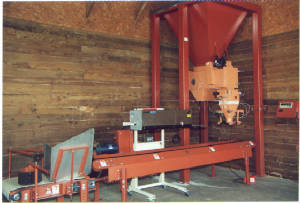 Pictured above is the JEM semi-automatic bagger. Great for start-up bagging operations! Creative Packaging can also supply more automated volumetric fillers and electronic weighing scales, such as shown at right.
AUTOMATIC PALLETIZING
The low-budget, "gantry-style",robotic palletizer (above) is capable of automatic palletizing 500 bags/hour and comes equipped with automatic empty pallet and slip sheet dispensers, and can be integrated with automatic pallet stretch wrapping and/or pallet stretch hooding systems.

FORM-FILL-SEAL SYSTEMS

Above is B&C vertical form-fill-seal machine capable of filling/sealing 10 to 80 liter bags of bark mulch, soils, fertilizers, etc. at speeds of 14-22 bags/minute.