We bring you over 30 years packaging experience, which doesn't make us "experts", but does enable us to understand some of our clients' needs, and to recommend solutions to these respective packaging opportunities.

Creative Packaging Inc. is one of the very few companies in North America that provides both integrated packaging equipment, graphic design service, along with printed poly films and bags to process on the equipment! This service insures a more consistent and reliable packaging system and less difficulty/time in resolving packaging problems.

Creative Packaging Inc. provides a variety of systems produced in the U.S., Canada and Europe to meet your every packaging requirement!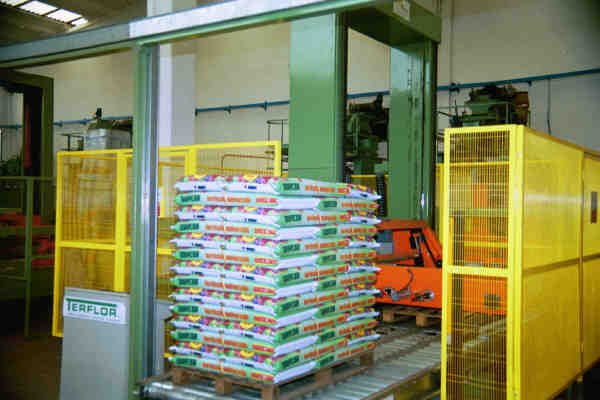 The above picture shows an electro-mechanical bag stacker (palletizer) that is often integrated with an automatic bagging system (such as photo at top right) to further minimize labor and reduce workmen's compensation claims. We can also supply robotic stackers, along with automatic stretch wrapping and stretch hooding systems as well.

Click on the "Bagging Systems" page (top right hand of this page) for more detailed information.